The Alternative Careers in Health Promotion and Education (ACiHPE) for International Medical Graduates (IMGs) Program is inviting applications for the Fall 2023 (September – December).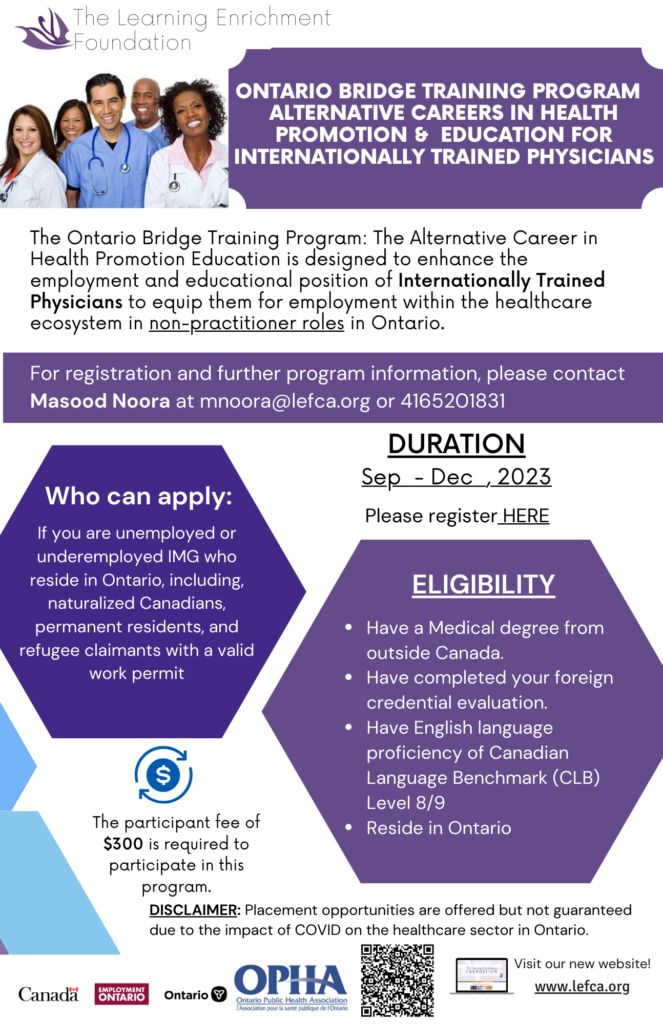 Course Descriptions:
Public Health and Health Care System in Ontario – This course will provide an overview of the major public health issues in Canada and Ontario, also discuss social determinants of health, relevant research, health policy, an overview of Ontario's Health Care System, and the work and role of Community Health Centres in Ontario, as well as health care advocacy organizations.
Health Promotion and Education Foundations – This course will introduce the Ottawa Charter for Health Promotion, models, theories, frameworks and community, and societal level change theories, as well as an introduction to strategy development. The course will also provide basic principles and practices in community development, including needs assessments, community consultations, program planning, and evaluation, social marketing principles, training/education techniques and identifying and developing community-level health projects.
Business Communication and Cultural Competence – This course will provide essential business communications skills, which includes expectations surrounding workplace communications, workplace diversity, cross-cultural communications, teamwork, as well as essential conflict resolution skills, also an introduction to various tools that are used in the workplace, survey platforms social media and Marketing platforms.
Careers – approaches to searching for a job, research organizations and hiring managers, online searching tools, resumes and cover letters, practise interviewing; and how to find and develop a network. Develop a longer-term career plan and strategy. The course will feature numerous opportunities to meet with leaders and potential employers in healthcare promotion and education to gain valuable insights on work environments and expectations for working at an organization. Students will also meet with other advisors for feedback on their self-presentation skills. Students will be asked to develop a longer-term strategy.