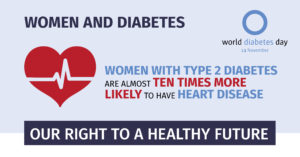 There are currently over 200 million women living with diabetes and this total is projected to increase to more than 300 million by 2040. Diabetes is the ninth leading cause of death in women globally, causing 2.1 million deaths each year. Gender roles and power dynamics influence vulnerability to diabetes, affect access to health services and health seeking behaviour for women, and amplify the impact of diabetes on women.
To mark World Diabetes Day 2017, the International Diabetes Federation (IDF) is organizing a high-level stakeholder event in Brussels that will focus on key themes of importance to the diabetes agenda through the prism of women. It will aim to highlight the importance of affordable and equitable access to screening, diabetes medicines and technologies, education and information for women living with diabetes and those at risk, and promote the role of women and girls as key influencers in the adoption of healthy lifestyles.
The event will also serve as a forum to promote two global initiatives of IDF:
The release of the IDF Diabetes Atlas 8th Edition – www.diabetesatlas.org – providing the latest data on the number of people living with diabetes worldwide.
IDF's Call to Action #RIGHT2HEALTH, which aims to deliver key advocacy information and request recognition and renewal of commitments that governments have agreed to ahead of the UN High Level Review on Non-communicable diseases (NCDs), scheduled to take place in September 2018.
Speakers include:
Dr Shaukat Sadikot – President, International Diabetes Federation
Dr Nam Cho – President-Elect, International Diabetes Federation
Dr Purnima Mane – Former UN Assistant-Secretary-General and Deputy Executive Director (Programme) of the United Nations Population Fund (UNFPA)
Dr Gojka Roglic – Technical Officer, Department for Management of NCDs, Disability, Violence and Injury Prevention
World Health Organization
Dr Line Kleinebreil – Vice-President, Université numérique francophone mondiale (UNFM)
Download the full programme (pdf)
WHEN:
Tuesday, 14 November 2017
12-15.00 (a buffet lunch will be served)
WHERE:
Residence Palace
Rue de la Loi 175
1048 Brussels, Belgium
If you are interested in attending, please register here by Monday, 13 November.